Nancy Heath, Registered Dental Hygienist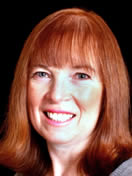 I was honored when I became Dr Samaha's choice in a dental hygienist, having heard so many wonderful things about her clinical expertise, as well as her well-recognized teaching and research in leading-edge periodontal care, (the primary passion of any dedicated dental hygienist!) Immediately impressed with the dedication of the entire team at Port Warwick Dental Arts, I knew I wanted to be a part of their world.
A graduate from Westbrook College School of Dental Hygiene in Portland, Maine, my New England roots were based in Connecticut and I had the privilege of being an integral part of an excellent practice which was consistently named, "Top Dental Practice in Connecticut", much like Port Warwick Dental Arts. Clearly, working with a Doctor and team I can be proud of, is important to me.
After Dr Samaha's extensive, national search for a hygienist, I was offered the position. With 25 years of clinical practice and my enthusiasm for our profession, Dr Samaha felt I would be the perfect one to continue Port Warwick Dental Art's mission of excellence in periodontal and preventive dental therapy. This meant moving my family from our home in Connecticut, to Hampton Roads. My daughter had recently graduated from William and Mary and we love the area. With the opportunity to be a part of Dr Samaha's team, the decision to move was immediate!
I am amazed at the high level of awareness and dental health of each one of Port Warwick Dental Art's existing patients, and the eagerness and motivation of our new patients. All of this has created for me, a truly rewarding opportunity to continue to make a difference in the dental health (and thus, general health) of each one of our patients.