Maria Luinetti, Senior Clinical Assistant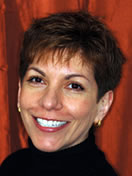 My creative background is in fashion design and I have lived all over the world, but no matter what I have done or where I have lived, the profession of dentistry has been my truest joy. And working with Dr Samaha has been the ultimate experience.
At Port Warwick Dental Arts, Dr. Samaha makes certain that periodontal care is truly a focus, creating a great atmosphere for learning the best skills and knowledge for being an accomplished dental assistant. We are so successful in helping our patients heal, improving not only their dental health but their general systemic health, as well. Dr Samaha is also an exceptional cosmetic dentist, creating stunning smiles every day. I am proud to be a part of such a wonderful, patient-centered practice such as ours. It is the most rewarding opportunity I have ever had.
I was born and grew up in Colombia, South America, and as an adult, have enjoyed the opportunity to live for extended periods in Italy, Hawaii and now, Virginia. I have two beautiful teenage girls.